Feb 09, 2023 - Women's Style
NEO GRANDE: Light as feather, feel like walking on the cloud. Meet ergonomic clogs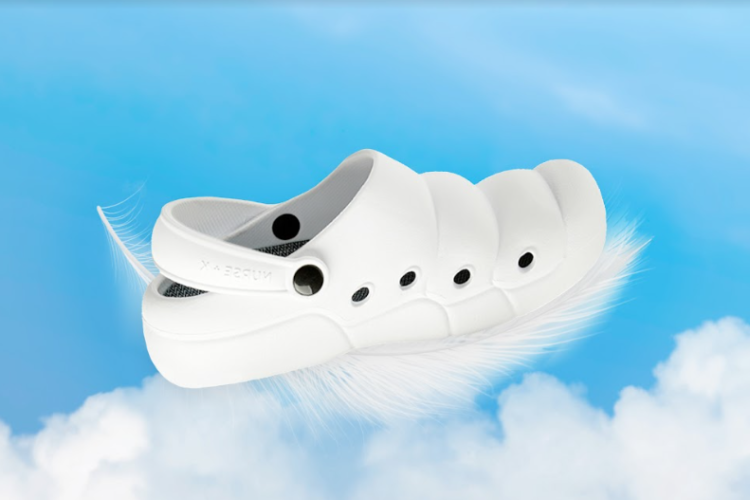 There are several outdoor shoes or sneakers that can keep your feet securely in place, but ergonomically designed functional slippers are hard to find. Each person has a unique foot shape and stride, making it difficult to find shoes that fit.
Shoes generally flex differently depending on how the person moves his/her feet, and if a certain area of the foot is repeatedly pressured, the foot may get painful, or the shoe may become deformed.
introducing shoes that keeps feet comfortable even when standing or walking for long periods of time. It is the NEO Grande, a shoe with excellent EVA cushioning.
NEO
G
RANDE
, comfortable for feet with 3D ARC Tech
NEO GRANDE is a daily shoe that is comfortable to wear anytime, anywhere, such as offices, workspaces, camping, travel, and outdoor activities. It is made of EVA (Ethylene Vinyl Acetate) material that has been processed to the ideal density. It is light and robust, and when worn, it offers a decent cushioning function. Outwardly, the cloud-like convex design is impressive. If you try it on, you can see that the inside has the same curved structure, and NEO GRANDE's unique ergonomic 3D ARC Tech is applied. It is a design that combines multiple curved surfaces in three dimensions in consideration of the mobility of the foot joint, so it fits comfortably even if the foot moves a lot.
Exceptional water-proof feature by applying EVA material
Since EVA material is 100% waterproof, NEO GRANDE dries quickly and is easy to care for. Also, it can be wiped off well even if it is stained with foreign substances, so you can always wear it clean without stains and odors. Additionally, the side of the shoes have three-dimensional holes that provide excellent ventilation while preventing rain and other foreign substances from entering the shoes. The more you walk, the more comfortable you feel.
The interior of the shoe has a surface that has been specifically treated and feels wonderful when touching it with the foot. When you wear them, it will be significantly more comfortable if you add a functional insole with excellent cushioning. You can insert an insole to change the size to match your foot if you want the ideal fit. A non-slip outsole is applied to the bottom of the shoe. This outsole is lighter than ordinary rubber and adheres well to the ground, so it does not slip easily on rainy days or on wet floors.
It is said that the heel's height of shoes that people feel the most comfortable is about 2.5cm ~ 3cm. The heel's height of NEO GRANDE is 3 cm, which minimizes foot fatigue even when standing for a long time. Your feet will be always comfortably protected because of the elastic EVA material's ability to resist external impact.
If you are curious about new concept functional clogs, visit Kickstarter now and search NEO GRANDE.